Marth and Sheeda II
drawn April 11-12, '07
posted Aug 2, 2008
(428)


The final sketch of yesterday's picture. Marth's face didn't turn out so well as in the practice (isn't it how that always is…) but if you want to see the little bit of it that I coloured – last month – here it is! The colours I was going to use were… Marth in his usual blue tunic, Sheeda in her usual red dress, Marth lying on a red blanket, and Sheeda lying on a wierd blue cloak thing with fluttery bits all over it. And then a green strip of grass in the middle.
Yay for blueheads?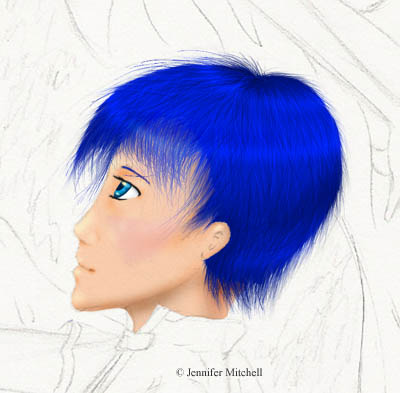 Today at work we reorganized the office. It was fun. Cleaning is fun sometimes.
Did I tell you I discovered I had a recording of my Franck concerto? I can't remember. Anyway, it was on a 2CD set of Grieg, of all things, so now I know we have a recording of the Grieg concerto too. Glee! I had about three piano concertos (Grieg, Franck, Rach2), the Chieftains, the Cherubini Requiem, the Mozart Requiem, and I forget what else in my head all this afternoon. And last afternoon. And before that, too, but today it was very insistent. I think the Haydn Harmoniemesse was in there too. Who needs iPods?
Is it really that you just save a 16×16 image as favicon.ico and it will appear next to the address at the top of the page? Because it didn't work in my test. Meh. D'you think it's worth using Javascript to keep the sidebar links updated? How about the category buttons? Who uses those? Would you miss them if I took them away? How about if I just put a link to the specific category page? Is there any way to update the linking mechanism so that for picture n, the next button will automatically link to picture n+1?
E-mail me the answers to any or all of these questions elfinessewebsiteathotmaildotcom! No hurry; you won't see any of the proposed changes for many months. I work slowly.
I have to go play Stronghold Crusader with my brother now. XP