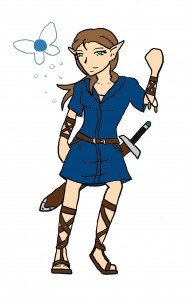 This beautiful piece of art was drawn by Rose, who seems to be my new biggest fan, judging from how often she comments! : D We met on Wayrift, and then on DA, and this piece was part of an art commission trade there. Here is the piece I did as my half of the trade…
I really love how she captured Rana's spunkiness. She says she enjoyed the character design, and I have to say I am amazed at the care she put into it. Also I like how she does faces, and Rana looks really pretty! In other words, it's fabulous, yo.
Another thing you should check out is her original fantasy story! It's very intriguing, and looks like it's going to be really exciting. The picture I did features two characters from it (who are thus far only peripherally involved, but central plot-wise).
I do have a picture today, but I need to practice before I let myself finish it. Off I go!
P.S. This picture is much larger, but the default resize options for WordPress are a little inconvenient. Click for full-size!