August 31, 2011
July 29, 2011
«
Flippant backstory
...
Firestorm
»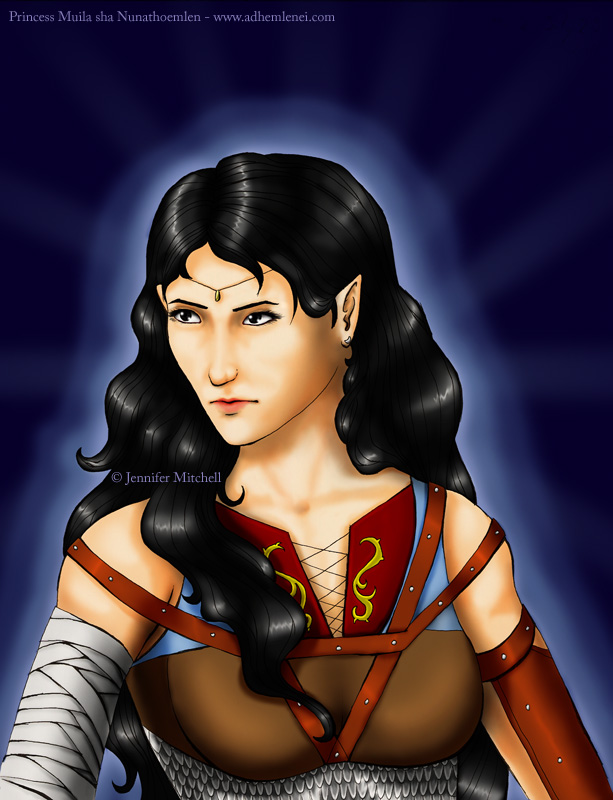 Muila
painted July 27-29, '11
(759)
At last, it is done. Mostly. I didn't do anything special with the lighting or adding textures, but I may rethink that. Now that I've been zoomed in on her face for so long it doesn't look right; there are proportions off. I did tweak the placement of her left eye, and that's about all I can do for now without entirely redrawing it. Which I could do too. But… I wanted to try to make the existing lineart work if I could.
Or you could say I'm lazy.

Mmkay! I'm going to take a nap. I stayed up too late last night watching a friend show me LotROnline, and it looks awesome. I can live with all the made-up stuff, because Glorfindel is actually blonde, and the hobbits are adorable, and the world is really huge and really really beautifully done. As my friend said, they knew they were creating the game for LotR nerds, so it had to be good or else. : )
Then my plan is to practice piano, draw Commander Firestorm, and maybe Ryder. And get Flairé back up to speed on GW.
July 27, 2011
July 26, 2011
July 25, 2011
June 25, 2011
September 5, 2010
December 15, 2009
December 9, 2009
Older Posts »