August 9, 2013
February 15, 2013
December 12, 2011
«
Incoherent babbling
...
Sick? Not Sick?
»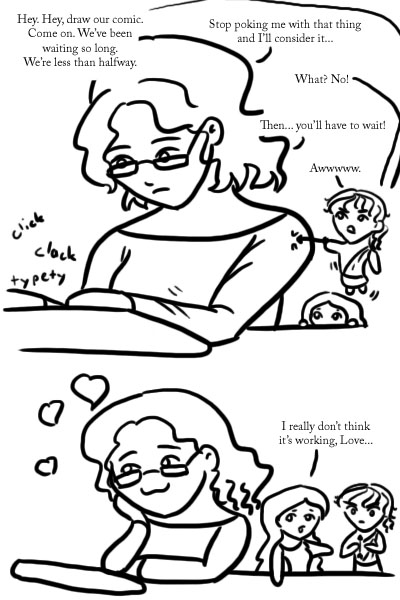 E+P filler
drawn Dec 11, '11
(785)
So, classes are finished… I am somewhat unnaturally tired, which is one reason why you haven't been flooded with art/writing/yay. The other reason…… you can probably guess from the nature of this filler.
(Psyche is SO CUTE!! XD )
Also, I kind of like the top picture of me… while the bottom picture gives my hair the unfortunate appearance of being made of ramen. …I'm not eating that much ramen. : P
So, I've done a lot of sleeping, a little shopping, a little video gaming, a lot of cooking, a lot of talking, and more sleeping.
Cooking? I made gingerbreads yesterday, apple pancakes today, and pizza also today! The pizza = not as good as my mom's, but pretty darn good for a first solo try, imo! So I have decided to learn how to cook, until I get my energy back and can do something useful. Also it's so sweet – the guys wash the dishes for me because I make them food. : 3
So, I may visit the doctor tomorrow. Someone suggested I start doing major physical exercise and seeing if that helps. It probably will. But on the other hand… what if it's something else? I keep waking up with a majorly sore throat, and I occasionally feel vertigo for no reason, in addition to the sleeping-too-many-hours. So yeah, I will visit the doctor tomorrow. If I can find one.
Dunno what else to talk about? The public library is very nice and quite high-tech? The shoppers are getting a little bonkers? I was sent one of the family Advent Calenders so I can count down the days and read the verses? I love Czech choirboys? I beat Guild Wars with Thari's help? Now I'm beating it again with a different character, and picking up on a bunch of foreshadowing that really isn't apparent if you only beat the game over the course of two years? I met Timothy Vernon the other day? It's snowy and sunny outside the last two days?
But for now, it's cookies and eggnog timez!!!
November 16, 2011
September 17, 2011
Older Posts »