Characters from the fictional alternate elvish history of the Pacific Northwest.
---
The Totally Not-Canon Adventures of Flairé
The characters from my Sunday webcomic.

Leslie: A young human girl who somehow appears in the Adhemlenei one fine day. Lost, confused, and a little bit frightened. Also happens to be a virtuoso pianist.

Flairé: A young elf, a Prince of the Moon-land, who apparently often meets young humans wandering in his woods. An expert swordman and entertainer.

Jen: A strange human girl wielding a combat foil, like in fencing. Another musician; very enthusiastic and random, and also clumsy and clueless.

Michael: A young human with a sword. Seems to know how to use it.
---
Legend of Zelda
Original characters from my head in my Legend of Zelda stories.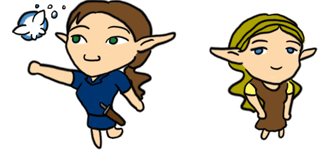 Rana – a Hylian girl raised as a Kokiri, complete with a quiet fairy named Naeri who serves as her common sense. She grew up with Link, and went adventuring with him when destiny called him. A purposefully innocent, often childish young woman, she tries to make everyone happy while doing the best she can to help out saving the world.
Shoza – a young, cocky, but mature Zora from Zora's Domain. A special friend of Rana's. He stays in Zora's Domain after it becomes frozen, attempting to free the Zoras trapped under the ice. He is rescued by Link when the Hero returns. He has a crush on Princess Ruto. Rana nicknames him 'fin-boy'. Hair: N/A. Eyes: blue-black.
Bitu – a Zora from Zora's Domain. Friend of Shoza's. Hair: N/A. Eyes: blue-black.
Raelle – her full name is Raelleanoranda. A Hylian noblewoman 400 hundred years before Link II (the hero of A Link to the Past and the Oracle games in my headcanon), the daughter of a knight, she ran away from an arranged marriage to an unpleasant old general. On her travels, she discovered the land of Labrynna, where the Oracle of Ages lives, and the knight Raven, also from Hyrule. They fell in love and were married, despite the protests of her family and the general she was betrothed to. She has a sister named Chrysanthymum, who was married off to a good-hearted young knight named Peter. She and Raven have three sons and a daughter, and one of these children grew up to be the ancestor of Link II. She can wield a sword and likes fishing and gardening. Hair: blonde. Eyes: blue.
---
Fire Emblem
Original characters from my head in my Fire Emblem stories.


Ceniro – a young tactician from the territory of Santaruz in Fire Emblem 7. Calm, responsible, kind, he loves wandering and seeing beautiful sights. He's also a skilled, though rather inexperienced strategist and never loses a unit in a straight-up battle. He has a crush on Lyn.
George: the captain of Pent's guards. Named for George Hincapie.
Cavven: a reckless young swordsman in Pent's guards. Named for Mark Cavendish.
Caddie: an axeman in Pent's guards. Named for Cadel Evans.
Yens: a lanceman in Pent's guards. Named for Jens Voigt.
Albert: a wandering monk from Kafti. Named for Alberto Contador.
Lence: a wandering shaman. Named for Lance Armstrong.
Andy and Frank: a pair of wandering cavaliers from Bern; brothers. Named for Andy and Frank Schleck.
Phil and Paul: the captains of the army of Deis, a dukedom in Etruria. Named for Phil Liggett and Paul Sherwen.
Roger of Deis: son of Duke Ocery of Deis, a dukedom in Etruria. Hotheaded.
Rhost: pupil of Douglas, General of Etruria.
Jerome: one of Pent's footmen.
Lesil: a slimy Etrurian nobleman.
Eshan: a scheming Etrurian nobleman; has an interest in the Church of Saint Elimine.
Salir – a village girl in Caelin in Fire Emblem 7. Spunky, pretty, flirtatious, she turns the heads of all the boys in Coril, her hometown, where she works as a barmaid at the Sword and Squirrel Inn. But it's the knight, Sain, who behaves exactly like her – even under the surface silliness – who captures her heart. Their son's name is Alan, and he becomes a knight of Pherae in Fire Emblem 6. Hair: brown. Eyes: brown. Themesong: Familia from Astebreed.
Anne – a young hawk laguz (shapeshifter) from the Kingdom of Phoenicis in Fire Emblem 9. Born with a deformed wing, she cannot fly. But that doesn't stop her from having a great time! Her story is told in Flightless Hawk. Hair: light brown. Eyes: light blue.
---
Other
Other characters from my head.

Esgalwen – a young Sindarin elf maiden from the forest of Mirkwood. Shy, playful, she loves singing and dancing and playing harp and cello with her placid elder sister. Her younger sister is a troublemaker. Her older brother, whom she calls Hano, is in the military, in the archers under Legolas.

Angel – the personification of my conscience. Calm and understanding, but can become sarcastic and exasperated. Expert on guilt-trips. Sometimes required to fight off demons for me.
Shell Silverson – a young, talented, and grouchy human wizard from my original story No One Cares About Heaven and Earth. Thirteen years old, he has the misfortune of living in a fictional 20th century country where wizards are feared and persecuted. He likes Warhammer miniatures, and cares greatly about his family. He generally uses his powers for good. He dislikes concrete buildings and uninspired architecture. After fighting a cruel, state-sponsored wizard, he leaves his family so they can live a normal life and joins Keesh, an elven maiden. Hair: Blonde. Eyes: Blue.
Keesh – a young elven woman in the Elven army from the same world as No One Cares About Heaven and Earth. She befriends Shell in the city of Capulno, and saves his life while he was fighting an evil wizard the same night. Resigning from the military after that fiasco, she took Shell to be her adopted brother. They now wander the country, doing odd jobs and occasionally living off the land. Hair: Blonde. Eyes: ???
Rinako – a violinist and singer who somehow, just somehow, gets tangled up in the antics of the Yu-Yu-Hakusho crowd. Earnest and sweet, she takes Kurama to be her role-model and follows him everywhere he will let her, much to Hiei's disgust. She eventually discovers her grandfather was a water-demon, and that she has control over water powers and some light powers. Hair: Brown. Eyes: Light blue.
Konane – a cheerful human girl who happens to somehow stumble upon the Inuyasha world and immediately sets herself to make Sesshoumaru less serious. She takes to her new surroundings very happily; her real family is dysfunctional except for her brother. Kendo was once one of her pastimes, but now in this harsher world it could mean the difference between her life and death. Hair: Blonde. Eyes: Grey.