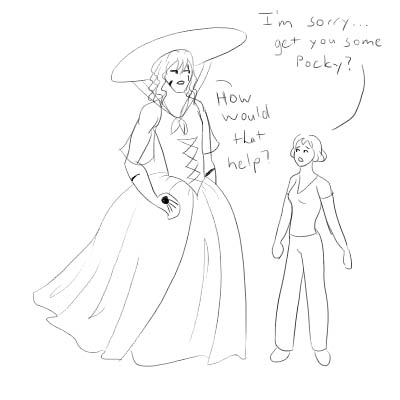 Zeb, post-fangirl-attack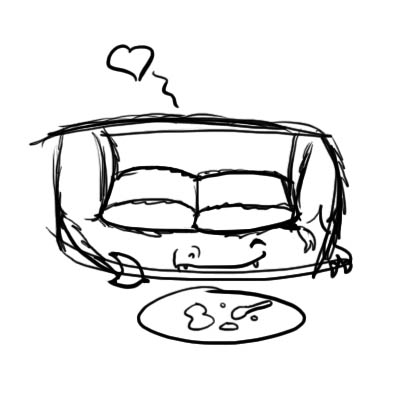 Zemicouch and (eaten) ice cream
both drawn Sep 16, '11
(777)
A pair of sketches drawn while participating in the Wayrift/Shimmer Livestream conversations last night. Zeb let us fangirls dress him up… Someone dumped soup on his head… I'm not sure why… I cleaned it off, because if Zeb's gonna let us do things to him, we may as well play nice, yeah? So I'm thinking, y'know, black silk and lace. Maybe some beaded details. High-heels not necessary, obviously… Afterwards, my guilt complex set in and I'm going to try to make it up to him. Anyway.
The second picture was based very directly on the conversation: Zemi decided to participate in couch form, and then we all went to Sam's and had ice cream. Well, a couple people had Kipburgers. : ) I wasn't sure if anyone had done a Zemicouch fanart yet, so I did one! He's so cute.
The whole Livestream experience was very cool, and super amazingly fun. We had like a dozen people on, including Wren and Syn, and I joined about 4 hours from the end. It was pretty intense.
I cleaned the kitchen!! The whole kitchen!! Well, except the spice rack (I'll do that later) and the corner with the recycling. But everything else… except a couple surfaces are still sticky, which annoys me greatly. And I couldn't clean the rice-cooker because there was still rice in it. Right now I'm killing time until my laundry is ready so I can make my bed and do another load. And then make supper in the clean kitchen. I think I will do potatoes because I have a big sackful. Potatoes and broccoli and sausages. Hey, it's what I have right now.
DID I TELL YOU I'M IN A TRIO
I'M IN A TRIO WITH A COUPLE SUPER AWESOME DUDES
THEY PLAY VIOLIN AND CELLO
WE'RE GOING TO PLAY BEETHOVEN AND CHOPIN
THIS IS GOING TO BE THE BESTEST TRIO EVER