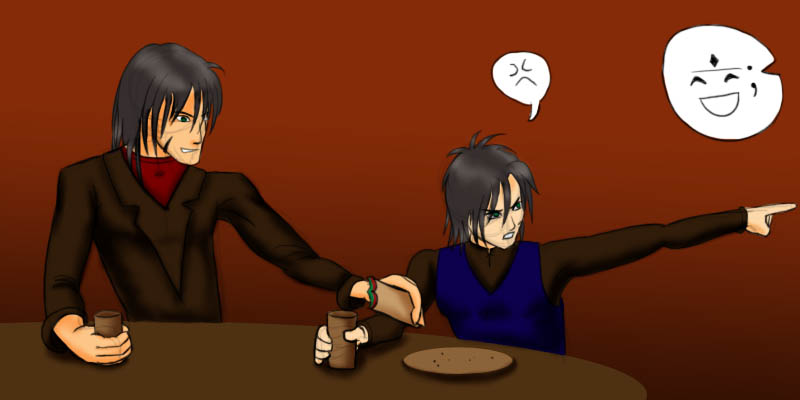 Stolen Sandwich, for Yllamse
drawn Sep 4-5, '11
(769)
First of the sketch commissions, for Yllamse, fellow Wayrift fan. Hmm, why does this scenario seem like something exactly like what she'd draw herself? : D Not gonna lie, it was super fun to do.
Well! My room is clean, and I even hung up my clothes (as I could – there are only a few hangers here yet) and put the others in the dresser. The second drawer from the top sticks, so no one close it all the way or I'll have to pound it open again. I scrubbed the whole room on my hands and knees. Well, not my knees, because that would be gross. I'd like to do a more thorough job, but I'll save that for when I have my own materials. Right now I'm borrowing. …My hands smell like rubber gloves.
I haven't seen as many insects as I thought I would, although I did see a super-creepy one this morning. It seems to be gone now, although I know it's only in another room or in the walls. But I'll get it next time. Brrrr.
I'm off to go clean the bathroom!! Then I can have a shower and relax.
EDIT: I cleaned not only the bathroom, but the sitting room and the hallway. I didn't clean them quite as thoroughly; I just swept them, really. They'll keep until I get my own cleaning supplies. Then I had a shower and had some food (food I obtained myself! just like a grown-up!) and now I am on the computer again, writing. I guess I could unpack some more but I don't really want to yet. Today's been exciting enough. Got a good cardio moving furniture around, whee. Also I put like two new points into 'improvised weapon: broom', so watch out!