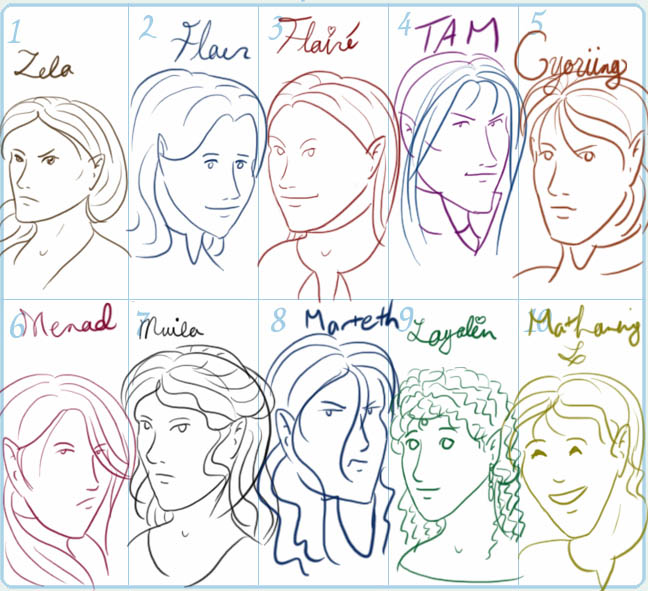 10 characters for a meme
drawn June 24, '11
(744)
Working on the hilarious 10 character meme. You can probably guess at the answers if you know it already… but they might not be what you expect! I thought some of these turned out rather well. Probably stolen from Colby, but it's been so long I've forgotten. I only just got around to it. : P
Also editting Chapter 2 of the novel. Split it into two chapters, so Tam's moment of glory is now in Chapter 3. Chapter 2 is still veeeery rough. Not happy with most of it. I may need to chop it out and rewrite it by itself a few times. Wondering how Chapter 3 will go, since I've never written it before. Flaer made a long internal monologue about how useless anger is… and then flips out at a dragon for being stupid. What a silly boy.
What else? Um, not much. Obsessing unhealthily over my DevArt. Added like five bazillion pictures to my favourites. Guess I should add more of my own stuff. I think I will stick to colour stuff, because the pencil stuff is not so impressive. More or less. If there's something on Adhemlenei you think I should post on DevArt, tell me. : P
Also dug up my Tour links again in preparation for a couple weeks from now… Go Andy! And Cadel! And Ryder! Okay, I guess I can wait until it actually gets going. It's gonna be amazing on the new TV.