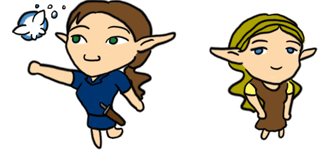 drawn Sep 5-6, '10
(645)
Ctrl+J is fab.
Tweaks coming tomorrow. And additions.
Can YOU name everyone here?
EDIT: Check the characters page! It is now covered in chibis. Except for the last four characters (Evylyin+Dymunde, Lyra, Lakia, and Cassandra) because I don't consider them important enough. Comment if you disagree.
And I found a way that's easier than Ctrl+J to make transparencies. lol.
EDIT 2: I tweaked a few of the chibis on the character page. Marteth's head looks a little less like a football (still not ideal, though), Anne's wing is the proper size, Jalril's eyes are golden, and a few other colour changes. Cheers!