Marth Manga pg 9
drawn Aug 26, '06
posted for Oct 20, 2007
(314)


This story is almost done! Hooray! It finishes with the end of this big sketchbook. On this page, I started getting a little smarter about the words. I just drew the pictures. LinT must have been inspiring me! So the words have been 100% added in Photoshop. Marth look incredibly stupid in frame 9. But I like frame 6,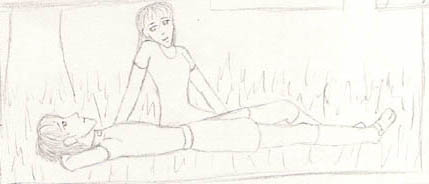 and also frame 4 isn't bad but it was drawn about a month later. And that's quite possibly the best kissing scene I've ever drawn, since they aren't actually kissing.
So far today, I watched my brother play Lego Star Wars II and the beginning of Star Wars Ep III (up to the part where they crash on the runway). The beginning of that movie is really brilliant. If only it were done with X-wings and TIE fighters, and Mon Cal cruisers and Impstars, and if ONLY HAYDEN CHRISTENSEN WERE A BETTER ACTOR, and one or two fewer dumb one-liners, then it would be Star Wars perfection incarnate.
But so much for my resolution to be a good student and practice at 9 in the morning like some people. Okay, so they go to orchestra rehearsal. That doesn't change the fact that they're practicing. But, I am planning to do piano after I'm done here, and then go on a walk around the golf course in the first time since school started, and then I'm going to finish theory homework and start on history homework!
Art contest! Take a look!